SUMMER CAMP INTERNSHIPS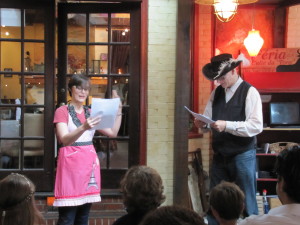 Are you a high school junior or senior or a college student? Are you looking for a place to use or practice your skills with French? Are you excited about working in theater? We are accepting intern applications for our Summer camp and November mini camp. If you are interested, please submit the following to Camp Director Caitlin Roe at caitlin@theatredureve.com:
Letter of interest (to include why you would like to intern, what you will bring to the table, and what you will gain from the experience)
Resume (High schoolers, I am at least looking for your background with French, theater and working with kids.)
Please include 2 references (These may not be family members.)
Summer Camp Internship Application Deadline: April 15, 2017
I will select potential interns for interviews in late April and make all final internship decisions by May 1st.