Check back later for adult and teen classes! In the meanwhile, here is a sample of what we might have to offer during a future session! Other topics have included The Art of Collage, Art de la Scene and Improv! 
Art of Mime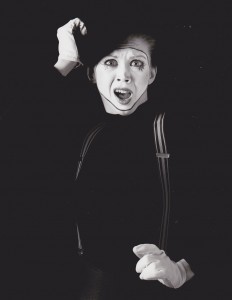 Art of Mime is an introduction to the techniques of mime that contribute to every form of performance art. Understanding the use of physical gesture to communicate a message to one's audience is key to success. Each one hour class will include new techniques to be added to previous lessons, equipping each student with knowledge to create and perform their own sketches. This is a great class for aspiring actors as well as theatre professionals looking to develop a new skill. This class will be taught by Ms. Chick Durrett-Smith.
WHO: Teens ages 12 to 18 and Adults ages 19 and up.
Eleven year olds may participate in the Teen Class with permission of the instructor
WHERE: Building 8, Room LMR 9 b& 18
Goat Farm Arts Center,
1200 Foster St NW,
COST: Teen Class- $180
Adult Class- $210
There are only 12 spots per class!
Completed forms and payments can be emailed to info@theatredureve.com or can be sent to:
Théâtre du Rêve
ATTN: Education
P.O. Box 78341
Atlanta, GA 30357
Please call 404-875- 3829 or email info@theatredureve.com with any questions!
ABOUT THE TEACHING ARTISTS: Chick Durrett-Smith moved to Atlanta in 1980 with her husband, Dennis. During the following years she has worked as a singer/dancer/actress/mime in productions at the Alliance Theatre, City Center Dance Theatre, Atlanta Contemporary Dance Company, Industrials shows, commercials and films. She has also been director/choreographer for productions around the city and festivals across the country. She was part of the team in the 1980's who produced The Atlanta Mime Festival at Colony Square/Peachtree Women's Club. Chick studied Theatre at the University of Montevallo in Alabama. Her emphasis was children's theatre and directing, while also studying Mime and Stage Combat. She very much enjoys creating new works and teaching young artists to do the same.