November Mini Camp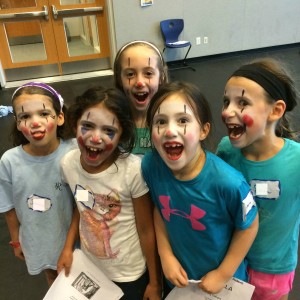 Looking for something to do with the kids the Monday and Tuesday of Thanksgiving break? Send them to TdR's bilingual November mini camp at the Alliance Française in Midtown. We will spend two days exploring theater and movement through workshops, games, crafts and mini performances for our fellow campers. This camp is for children grades 1st-5th. Campers will be divided into workshop groups based on age and level of French. (*NO FRENCH REQUIRED for this bilingual camp.) Limited space available. Register today!
DATES: November 20 & 21, 2017 – Register for one or both days!
TIME: 9am-5pm (optional pre and post care available)
WHO: Students grades 1st-5th
COST: $100 for two days or $60 for one day
Registered campers will receive emergency forms and waivers prior to the first day of camp.
CAMP INTERNSHIPS
Are you a high school junior or senior or a college student? Are you looking for a place to use or practice your skills with French? Are you excited about working in theater? We are accepting intern applications for our Summer camp and November mini camp. If you are interested, please submit the following to Camp Director Caitlin Roe at caitlin@theatredureve.com:
Letter of interest (to include why you would like to intern, what you will bring to the table, and what you will gain from the experience)
Resume (High schoolers, I am at least looking for your background with French, theater and working with kids.)
Please include 2 references (These may not be family members.)
November Camp Internship Application Deadline: Oct. 31, 2017
I will select potential interns for interviews the first week of November and make all final internship decisions by November 12th.
Été des Rêves (Summer of Dreams)
Summer Theater-Making Intensive Camp
(Stay tuned for 2018 camp information!)
Camp 2017 Presenting…Beauty and the Beast
Mount a play based on a French story in one week's time! This year's play is Beauty and the Beast. Auditions will be held Monday morning, and camp concludes with 2 performances open to the public on Saturday. Spend one week immersed in all aspects of theatre! When you are not rehearsing, you will spend your time taking workshops in subjects ranging from scenework, improv, mime, theatre games, stage combat, basic set construction and more. Learn from energetic, outgoing theatre professionals! Campers will be placed into groups based on age and language background. No knowledge of French is required to participate, but for our Francophile/Francophone campers, we will adapt to parents' and campers' desires to integrate French into workshops and performances.
Once registered, campers will receive emergency forms, waivers, and a t-shirt order form. Parents will receive an invoice for their camp total to be paid on or before the first day of camp.
JUNE 12-17, 2017: Beauty and the Beast
Who: Students ages 7-15 (or rising 2nd through 10th graders)
Cost: $325 per week with scholarships and discounts available
EARLY BIRD DISCOUNT INCENTIVE: Register by May 1st to receive $25 off of camp per camper!
Sibling Discount Incentive: Pay full price for one camper to receive $50 off of the second child.
Contact Caitlin Roe at caitlin@theatredureve.com for scholarship inquiries or call 404-875-3829.
Registration MUST be turned in by June 5th in order to receive the Sibling Discount.
Where: The Lovett School, 4075 Paces Ferry Rd. NW, Atlanta 30315
Camp Schedule:
Monday
9am-6pm
9am Group warm-ups
10am Auditions – Please prepare a short monologue, story, poem or song to share.
12:00pm Lunch
1:00pm Read through
3:30pm Break
3:45pm Workshops, rehearsals
6pm Go home
Tuesday
9am-6pm (workshops, rehearsals)
Wednesday
9am-6pm (workshops, rehearsals)
Thursday
9am-7:30pm
9am-5:00pm (workshops, rehearsals)
5:00-6:00pm Dinner provided by TdR
6:00-7:30pm Run-thru with entire cast
Friday
9am-6pm (dress rehearsals)
Saturday
8:30am arrival, 10am performance, 11:30am lunch and cast party, 2pm performance, 3-4pm strike and clean-up.
*lunch provided
IMPORTANT SCHEDULE NOTES:
Staff on site for early drop-off/late pick-up Monday through Friday from 8am-6:30pm.
Campers should bring their own lunches and snacks.
Campers will be working hard and using lots of energy during camp! We will provide 1-2 low-key activities and an optional lunchtime "resting room" each day to help conserve their energy. We recommend they go to bed early so they are refreshed for the next day.
REGISTRATION:
Packet may be scanned and emailed to caitlin@theatredureve.com or sent by mail to Theatre du Reve, P.O. Box 78341, Atlanta, GA 30310.
Registration Deadline: June 10th
Payment due on or before the 1st day of camp.
Questions? Contact us at info@theatredureve.com or give us a call at 404-875-3829.