Celles d'en haut (Women on Top)
Written by Olivier Kemeid, directed by Olivier Coyette
The Partnership
Cohorts in Cahoots
Together, Théâtre du Rêve (Theater of the Dream) and 7 Stages Theatre are revitalizing what a partnership looks like. Our companies share a vision: championing international and new work and educational outreach.  Together, we are responding to the climate of recent closings of Georgia theaters and feel it is imperative that we collaborate and share experience, energy, and resources, instead of competing with and cannibalizing each other. We are stronger together. This is a relationship of mutual respect and mentorship, and our production and the "re-energization" of our creative/administrative team reflects that. With Celles d'en haut, we foster a cross-cultural, international dialogue, creating an artistically open space to both empower and inspire our audiences to keep the conversation going outside of the theater.
Who are we when removed from the context from our lives?
This new play commission is the product of Théâtre du Rêve's (Theater of the Dream's) 4-year-long QUAD CITY COLLABORATION: bringing together theater artists from Brussels, Montreal, Atlanta and Chicago. Inspired by Dante's Inferno, Thomas Mann's The Magic Mountain, and film stills by Cindy Sherman, the play is set in an "establishment" on an isolated mountaintop. Celles d'en haut celebrates women of all ages and the dynamics of their relationships, and with a wicked sense of humor gives us space to question: Who are we when removed from the context of our lives?
CdH gives Atlanta audiences the opportunity to see a piece that involves artists from different countries and artistic backgrounds, giving our audiences an opportunity to see the evolution of the project over three years. This audience has become invested because they believe in the importance of this show and have seen the evolution of our partnerships with the Canadian and Belgian Consulates, Quebec Trade Office, CITF and more.
Inner Circle Salon Series
We are cultivating a group of women of all ages and professions to foster conversations and relationships ignited by theater that ripple out into the community. This production is driven purposefully by women characters over 40. Community experts, artists, gallery owners, Jungian psychologists, bloggers, and curious souls from all walks of life host thought-provoking salons and create a space for women, "at the half time of their lives" as our playwright puts it, to explode the conversation, but NOT at the exclusion of men. Our audience and the community will benefit from this project by experiencing international and national work at home, as well as by being given the opportunity to engage not only in talkbacks with the artists and creators, but also to take part in unique master classes and workshops with the international artists involved.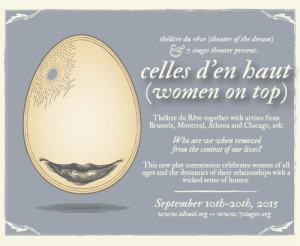 What our some of our artistic team has been doing:
Olivier Coyette: Brussels (Director) is Artistic Director of Théâtre de Pôche, Belgium. He writes, directs, teaches, and acts all over the world from Brussels, Burkina Faso, Burundi, Canada, France and the US.
Olivier Kemeid: Montreal (Playwright) His work is translated into over 5 languages, often inspired by the classics and has been done all over Canada, at Red Bull Theater in NYC, in Atlanta, Chicago, France, Germany and all over Africa.
Kevin McCoy: Montreal/Chicago (Actor) His one man creation NORGE is currently running at the TRIDENT in Quebec. Worked with Robert Le Page's company ex-Machina for numerous years.
Mike Tutaj: Chicago (Video/Projection Designer) Chicago video designs include Steppenwolf,Goodman and work with Chicago Symphony Orchestra and Frank Ghery – winner of multiple Jeffs.
Park Krausen: Atlanta (Actor) created the theatrical adaptation of the graphic novel Jane, le renard et moi (Jane the Fox and Me) which can be performed anywhere in the country in French or English followed by workshops that ask audiences to acknowledge and find ways beyond bullying behavior (primarily through empathy) inspired by partner Ben Marion Institute for Social Justice.
Carolyn Cook: Atlanta (Actor) developing the play Blackberry Winter (by Steve Yockey)which investigates a personal journey of an Alzheimers care giver and continuing a blog, giving readers an insider's perspective to daily caring for a parent with Alzheimers.
Stay on Top of the Salon Series
Celles d'en haut premiered September 11th-20th with preview performances in French and English.