A View from on Top
by Tanisa Reynolds (Artistic Intern)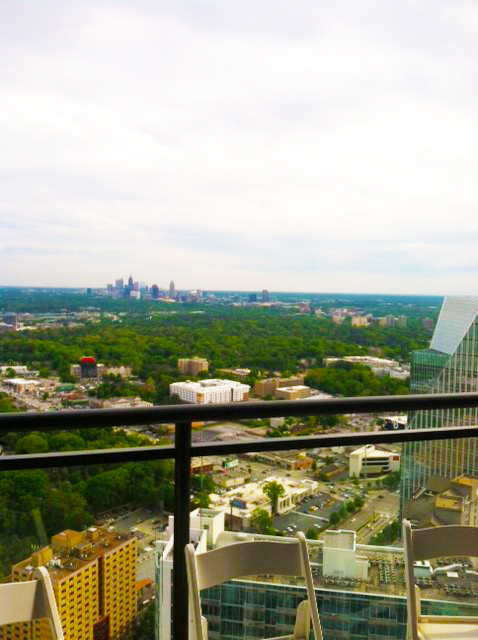 With the beautiful "City of Trees" as our background, our April Salon began with meaningful connections over exquisitely flavorful treats and a wide array of beverages. It was truly awe-inspiring to be in a high-rise loft in a room filled with new faces. It was a truly freeing experience to float around the room and join in any of the compelling conversations emitting from the small bundles of guests connecting and reconnecting. The room was abuzz with people recognizing each other from previous events, matching names and emails to faces, or simply enjoying the positive air and gallantry of the evening.
Our wonderful host, Nathalie Mason-Fleury, opened the salon with an introduction of why she  had chosen to focus on mental illness in western society and medicine with an emphasis on the treatment of women. She explained how women are treated unfairly even when having crucial discussions with doctors. Her point was that there seems to be no sensitivity to a woman's condition and that the level of carelessness about treatment for women (mental illness or not) is extremely high and has yet to truly breakaway from the ancient way of thinking. After giving a personal account of an odd encounter with her at-the-time physician, Nathalie opened the floor for the guests to share and discuss their own experiences. The stories shared were honest, intimate, and personal to each individual that spoke. With each story, the group seemed to respond in silent support, almost like a pat on the back. I took mental notes from each scenario in case I ever find myself or a loved one in a similar predicament. This conversation served as an ice-breaker for the group and opened up the floor for a brief selection from the upcoming stage play Celles d'en haut (Women on Top). It was truly wonderful to watch a room generally full of strangers begin to whisper to each other and share quiet jokes while the evening continued.
I found the most thrilling section of the evening to be the recital of research that Nathalie found on the history of the treatment of mental illness of women. I was taken aback to learn that the root of the word "feminine" means "without faith." To watch everyone's reactions–the gasps, the laughter, the verbal confirmations, the visible discomfort–was truly energizing.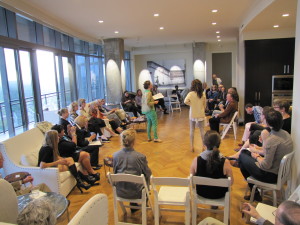 I had not realized that we spent 2 hours away from technology until it was mentioned. Once the guests all realized that we were all connected just by being together in the room, we were compelled to make the evening count by solidifying new relationships with an exchange of contact information. Suddenly the room was no longer filled with strangers; I left this salon feeling like I personally knew most of the people there.
---
Questions
By Tanisa Reynolds-Francis(Artistic Intern)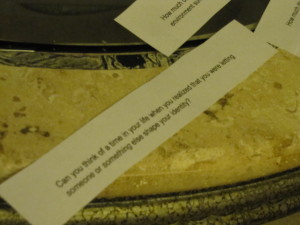 Our May Salon began relaxedly in the cozy Dunwoody home of our hostess, the dynamic and articulate Sheila Oliver of Actor's Express. Guests trickled in slowly at first, with warm hellos and introductory conversations filled with laughter. Many of our guests recognized each other from our previous salons and chatted about the previous themes. After our customary meet and greet over flavorful treats, we gathered in a poolside sun room to begin the evening's discussion. The umbrella question: "Who are we when removed from the context of our lives?" was presented with an envelope of five sub-questions to be discussed in smaller groups. The group I was in focused on the question: "Can you think of a time in your life when you realized that you were letting someone or something else shape your identity?" The stories that were shared- including my own-spoke volumes about sacrifice, the limitations of compromise, and being criticized for changing because of an outside influence.

I visited the other groups and heard a range of stories about wearing "masks" and what that means for actors, leaving your home and returning as a completely different person, and eventually forgetting who you were while in that place, and even becoming someone else temporarily to benefit someone you really care about. When the group
discussions were over, we all reconvened in the sun room.Collectively, each group member managed to reach some kind of understanding and appreciation of one another. As various members shared their experiences, I watched them find comfort in knowing that they were not the only ones who have been altered by an outside influence. 
Each group shared a brief synopsis of what they discussed. The primary question was asked again and led to a discussion of context itself. Questions like "Do we want to be removed from the context of our lives?" and "Why would we need to be removed from the context of our lives when we can change ourselves from within it?" At this point I began to question why it is so scary for us to be removed from the context of our lives if we are simply changing by adding or reducing a piece of our selves.
My question was answered by one of the guests. "It is impossible to be out of the context of our lives because the new context is now a part of our life." It was as if the spell of questions that clouded the room suddenly disappeared into thin air. A silent and collective "aha" cascaded over each individual in the room. The conversations continued on even after we dispersed into the dining area. Phone numbers and email addresses were traded once more. It seems the more frequently we connect with each other, the more questions we discover, the more we have to say, and the more we look forward to digging deeper, together.
---
Oppositional Buzz
By Tanisa Reynolds-Francis (Artistic Intern)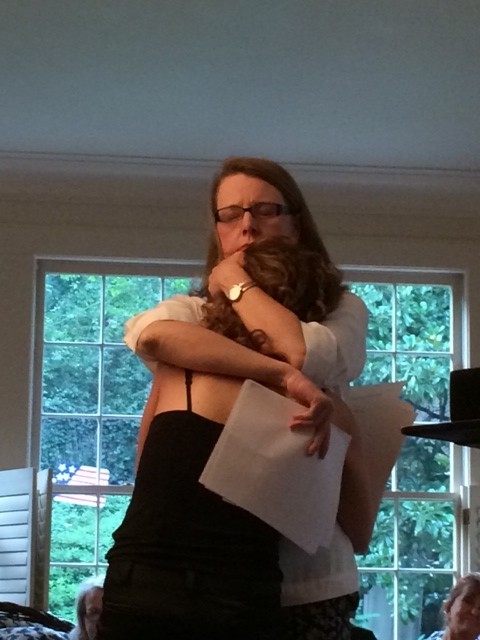 There was a sense of merriment in the air when I arrived at the salon in Morningside. The air was abuzz in preparation for the guests. I perched myself in the kitchen to watch and catch all of the growing conversations. They started off with the usual questions like,"Did you try the Rosé?" or "So how do you know Park?" or "Is this your first Salon?" I decided to continue enjoying observing until more guests arrived. When they did, the conversations morphed into, "Hey, you were at the last Salon" and "Yes, I remember you, how are you doing?" I loved watching everyone come together and foster new connections. I waved, smiled, and gave quick hellos to the guests I see regularly; my plan was to make a good impression and engage with our first timers. Soon after circulating the room, a first time guest introduced herself to me. After telling me a little about herself, I asked her
how she heard about the Salon. She explained that her parents are good friends with our June host, Jungian Psychoanalyst Virginia Apperson, and that she received a
personal invite. I then asked her what was she expecting from the Salon. She seemed a bit uncomfortable and confessed that she wasn't sure of what to expect and she knew absolutely no one in attendance except Virginia. I assured her that she would indeed walk away from this Salon feeling like she knew at least a handful of people here and
that all she really had to do was listen to other peoples stories and perspectives.
A few minutes later, we all gathered in the living room and the surprise preview began: three actresses burst onto the scene reading from Celles d'en haut (Women on Top).
All of our actresses of the night did a wonderful job of catching everyone off-guard and keeping the guests engaged for the duration of the introduction to Celles d'en haut.
Virginia introduced the night's theme and asked everyone to reflect on a time in their lives when they seemed to be "going along in one
direction and suddenly everything changes." In the play, the main character, Violet, is driving along a road and suddenly crashes into a tree. Virgina said
that like Violet, sometimes we are so caught up with what we're doing that when something changes it feels as though someone has pulled the
rug out from under us. That feeling has indeed captured me multiple times in my life, and as I looked around the room I saw nods of affirmation that I was
not the only who had experienced this. We then separated ourselves into small focus groups to discuss the oppositional forces in the play and in our lives. My group focused on Violet's oppositional mannerism in the establishment. For example, how she would say no to an offer made by her peers, but would then allow them to convince her otherwise.
After reconvening from our group chats, Virginia concluded our Salon by saying that we eventually have to accept the changes that have occurred lest we be in a state of
confusion and outrage constantly. This theme is strongly apparent throughout Violet's journey and our guests inquired about the rest of the play in anticipation for its premiere.
I checked in with the first-time guest after the Salon was over and asked her how she felt now. She said she enjoyed her time and even inquired about the next Salon in full support of Celles d'en haut. I was glad she stepped outside of the usual course of her life and embraced the new and exciting environment of the salon.
---
Creative
By Tanisa Reynolds (Intern)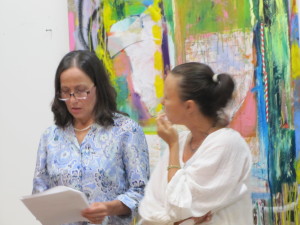 What better creative space could exist for a discussion on the topic of creativity than a visual artist's private studio? This month's salon soiree was all about art and ultimately about how the choices made by the play's artists affect the themes and messages. Guests were seated among finished and unfinished canvases in the studio of our hostess, Karen Schwartz Ph.D, at the King Plow Arts Center in Atlanta. The tone in the room was very bright as guests, staff of Théâtre du Rêve and 7 Stages Theatre, and other members of the artistic team of the upcoming premiere of Celles d'en haut (Women on Top) introduced themselves. To begin the evening, our hostess wanted to explore the dual use of French and English, both within the play itself as well as through planned performances in both languages. To help the guests understand the importance of the use of English and French, actresses performed a short selection of a scene that displayed an argument specifically about which language to speak in the "establishment"—"You must speak French here." Guests then inquired about the reasoning behind that scene and why it was so important for the creators to highlight the language barriers. Going around the room, we learned that some of the guests spoke French, some understood French, and some didn't speak French at all, in the same way that audience members for the upcoming show will have different linguistic backgrounds. But as Artistic Director Park Krausen reassured the guests, this play is "no fear French—no French necessary."
The discussion migrated to the topic of the creative process. A guest asked our hostess, "How do you know when it's done?" She explained that she doesn't have a particular goal or deadline in mind before she begins a piece of artwork. She compared one of her finished pieces to one of her unfinished pieces, describing the unfinished piece as having not communicated her message, not being aesthetically true to her artistic style, or needing something more. She established that the finished art piece was shown at an event that featured only figurative art, and she explained who her model was and what she was attempting to capture on canvas. She knew she was done when she had effectively encapsulated the persona, the form, the body language, and her own personal artistic aesthetic. The audience responded well and found the piece to be very enjoyable. We found through our discussion that Visual Art as compared to Performance Art is relatively the same process and equally affected by an audience. The outcome of each art form is that we (as artists of any medium) offer our work to be judged, a very intimate process. Within the world of theater, audience members often don't get the chance to engage with the work after leaving the theater. Usually they leave having developed their own opinions about the show and that is all; there is no process to attempt to understand or dissect the message or question it—only space to watch and absorb.
The play's creators are asking audience members to become a part of the artwork and to participate in the story. As the audience becomes a part of the work, the energy from both the audience and the artists transforms into the threads of the canvas, the actors bodies become the paint.