Microfiction ATL
A public street theatre production
text by Régis Jauffret
September 16-17, 2011
at "Elevate//Art Above Underground"
In 2011, TdR produced two free and public street theatre performances of Microfiction ATL as part of the City of Atlanta Office of Cultural Affairs' fall public art exhibition in the vicinity of Underground Atlanta.
Directed by Valéry Warnotte and Charlie Windelschmidt of the French theatre company Dérézo, the performance brings to life some of the 500 interior monologues in the book Microfictions by Régis Jauffret. Through character and storytelling, we can reclaim the urban spaces often overlooked in our own city. The monologues are performed in site-specific stagings by both French and American performers, including actors, musicians and the city itself.
Théâtre du Rêve's partners: Cie Dérézo (France), translator Amin Erfani
With the support of: Elevate|Art Above Underground (City of Atlanta Public Art Program)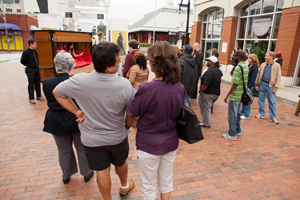 L'acteur sacrifiant
The Sacrificing Actor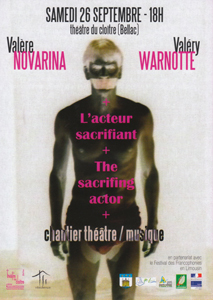 Adapted and directed by Valéry Warnotte
Dramaturgy by Amin Erfani
January 15-24, 2010
at the Performing Arts Studio, Emory University
Wit, subversion, a challenge to the theatre-going experience as we know it — French-Swiss playwright Valère Novarina's works come to life with irreverence and exploration in this new creation from Théâtre du Rêve and Compagnie L'Intervention in Paris. Théâtre du Rêve collaborated with Emory University to bring the work of Valère Novarina to Atlanta. Novarina is one of the most important visionaries and one of the most interesting authors in contemporary French theatre. He is often produced at the international Avignon Festival, and we are happy to be one of the first companies to bring him to the U.S. TdR commissioned new translations of his work into English by Amin Erfani of Emory; Valery Warnotte adapted excerpts from this living playwright's dramatic and theoretical works into a dynamic, funny, challenging and experiential piece. Novarina questions the core of drama and asks the audience to "come back into the theater" and throw out our preconceptions. He seeks to invent a new theatrical language that is closer to our own heartbeats and hits our funny bones, and tickles us in places we didn't know we were ticklish!
TdR also performed L'Acteur Sacrifiant in Washington, DC, April 12-14, 2010. US tour facilitated by the Alliance Française USA, April 1-15, 2010. Developed partly in workshop with Novarina and the Emory University Department of French and Italian in February 2009, as well as at the Festival des Francophonies en Limousin in September 2009.
Théâtre du Rêve's partners: playwright Valère Novarina (Switzerland/France), translator Amin Erfani (Atlanta), director and adpator Valéry Warnotte (Paris), actor Grégory Montel (Paris), composer/musician Fred Lamarre (Paris) Developed at the Festival des Francophonies en Limousin and at the Center of Bellac
With the support of: Cultural Services of the French Embassy, Emory University Center for Creativity and the Arts, Georgia Council for the Arts, Fulton County Arts Council, Atlanta Office of Cultural Affairs, Alliance Francaise of Washington DC
Voir un ami pleurer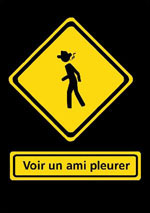 Directed by Valery Warnotte
Featuring Carolyn Cook, Ariel de Man, Liz Hartnett, Chris Kayser, Joe Knezevich and Park Krausen
World premiere — 14th Street Playhouse: January 24-27, 2008
Atlanta remount — 14th Street Playhouse: September 11-14, 2008
International tour — Centre Wallonie-Bruxelles, Paris: November 12-16, 2008
US tour, through the Délégation Générale des Alliances Françaises USA: April 2009
Over the course of 16 months, Théâtre du Rêve presented in several incarnations this commissioned play from Belgian playwright Olivier Coyette about the ever-changing, dynamic relationship between France and the United States and our ever-challenged identities. The play attempts to show how the United States inspire dreams across the world as much as we aggravate and sometimes, move others. The title of the play, which is also a song by Jacques Brel, sheds light on the direction of our movements: America suffers. The play revolves around the relationship between Americans and French, revealing stereotypes and prejudices along the way. Through comical situations and a wonderful sense of humor, Olivier Coyette creatively reiterates the theme that when it comes to France and the US, "you can't live with them, you can't live without them." Performed in a combination of French and English with supertitles in the opposite language. A dark and light comedy with poetry and music.
Théâtre du Rêve's partners: playwright Olivier Coyette (Bruxelles/Paris), director Valéry Warnotte (Paris), composer Fred Lamarre (Paris)
With the support of: Cultural Services of the French Embassy, Georgia Council for the Arts, Fulton County Arts Council, Atlanta Office of Cultural Affairs