2015-2016
Cohorts in Cahoots Season Kick-off Cabaret
An afternoon of song and revelry.
Saturday, August 22nd 2014 from 2 to 5pm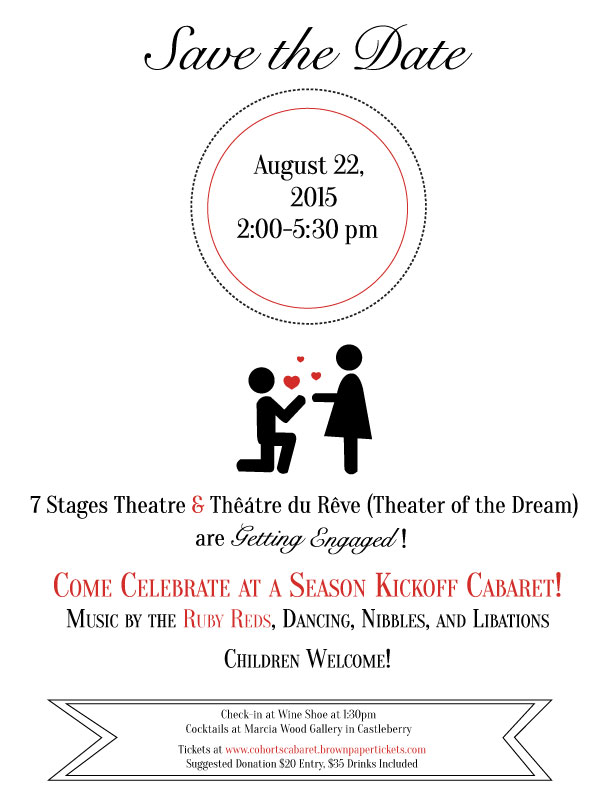 7 Stages Theatre and Théâtre du Rêve (Theater of the Dream) are getting engaged! Come celebrate at a season kick-off cabaret!
Music, dancing, nibbles and libations. Children welcome! Plus bid on our fabulous silent auction items.
All tickets and donations go to support the local and internationally-flavored work that both of our companies are producing this season.
FEATURING: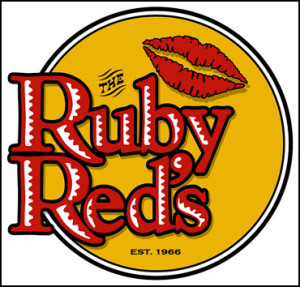 Event details:
WHEN: Saturday, August 22, 2015 from 2-5pm with check-in from 1:30-2pm
WHERE: Castleberry Hill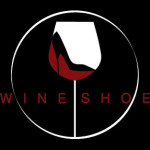 Schedule of events:
1:30-2:30pm: CHECK-IN and wine tasting at WINE SHOE (339 Nelson St SW, ATL). Non-alcoholic option for the kiddos. CLICK HERE
FOR PARKING INSTRUCTIONS.
2-4:30pm: 3-5 minute walk to Wine Shoe's WILEY event space for party, dancing, music, silent auction and more. (Taxi available for those with limited mobility).
4:30-5:30pm: 3-5 minute walk to MARCIA WOOD GALLERY for cocktails, private gallery visit and rendez-vous with the artists of Celles d'en haut (Women on Top) World .Premiere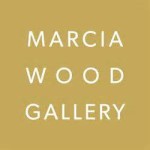 COST:

*$20 General Entry
*$35 General Entry with alcoholic drinks included
*Children 10 and under get in FREE!
Thanks to our event sponsors: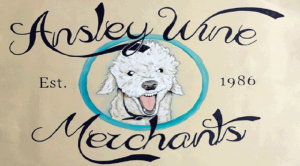 Celles d'en haut (Women on Top)
Preview performances in French and English September 9th and 10th
Premiere on September 11, 2015 with performances through September 20th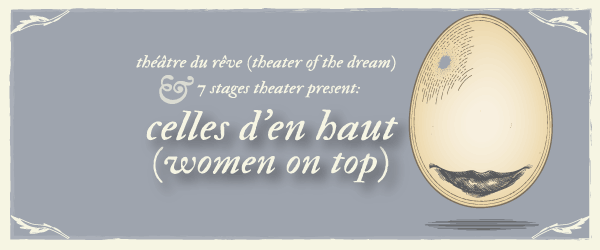 Written by Olivier Kemeid(Montreal), directed by Olivier Coyette (Brussels), and inspired by Dante's Inferno, Thomas Mann's The Magic Mountain, and film stills by Cindy Sherman, the play is set in an "establishment" on an isolated mountaintop. Celles d'en haut celebrates women of all ages and the dynamics of their relationships, and with a wicked sense of humor gives us space to question: Who are we when removed from the context of our lives? CdH gives Atlanta audiences the opportunity to see a piece that involves artists from different countries and artistic backgrounds, giving our audiences an opportunity to see the evolution of the project over three years.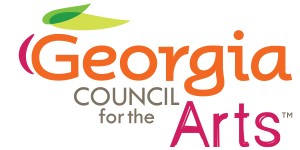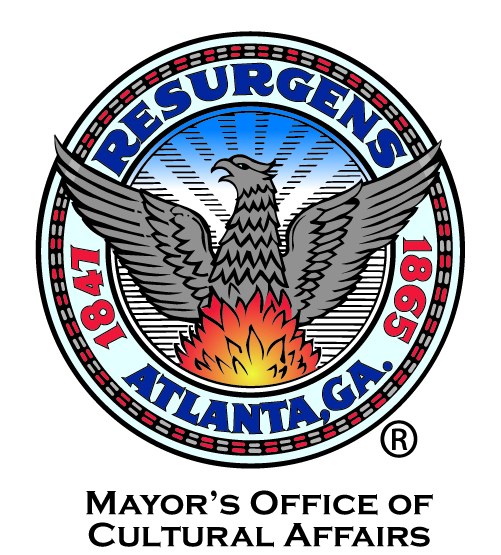 This program is supported in part by the Mayor's Office of Cultural Affairs.
This program is supported in part by the Georgia Council for the Arts through the appropriations of the Georgia General Assembly. GCA also receives support from its partner agency – the National Endowment for the Arts. 
2014-2015
Sur l'oreiller (Pillow Talk)
Find Théâtre du Rêve at the High.
August 1st 2014
September 12th 2014
Make yourself at home this summer at the High Museum of Art in the interactive setting Mi Casa, Your Casa. Play, create, and be a part of the art on the Woodruff Arts Center campus.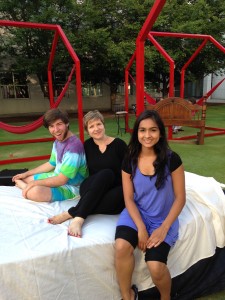 Théâtre du Rêve, Atlanta's unique French-language theatre company, performs Pillow Talk sur l'oreiller – between dreams and consciousness. Between the sheets. An intimate experience shifting the relationship between performer and audience. With a team of highly professional, bilingual theater artists, the company has performed classical and contemporary plays and company-created productions, playing to sold out houses, crowded museum theaters, and schools.
Tzigane: Le poème gitan (Tsigan: The Gypsy Poem)
by Cecilia Woloch
An intimate, bilingual reading.
September 28th 2014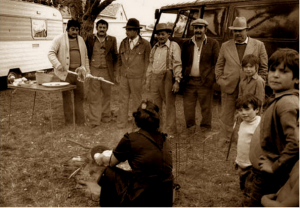 Celebrating the lyrical fire of the gypsy spirit- a poetic spirit that transcends geographical boundaries and the limits of space and time.
Called Gypsy, Tsigan, Gitane, Cygane, Zigeuner, the Roma people have wandered the world for a thousand years—their mysterious origins a source of fascination as well as suspicion. They've been romanticized but also brutally persecuted. Tsigan: The Gypsy Poem is an acclaimed book-length poetic sequence written by Cecilia Woloch. It intertwines her personal journey of identity with the larger forces in the world that have shaped the Roma people's fate and fortunes. Tsigan has recently been translated into French, and the French edition was published this spring by Scribe-l'Harmattan.
Celles d'en Haut (The Women from on High)
by Olivier Kemeid
The Quad City Collaboration continues…
October 28th 2014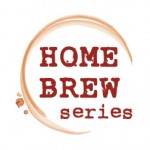 In partnership with 7 Stages Theatre's Home Brew Series…
Inspired by Dante's Inferno, Thomas Mann's The Magic Mountain and film stills by Cindy Sherman, Celles d'en Haut/The Women from on High is a new play that is the product of Théâtre du Rêve (Theater of the Dream)'s quad city collaboration between Atlanta, Chicago, Montreal and Brussels. TdR invites you into the rehearsal process for a glimpse behind the scenes with an open rehearsal of the play written by lauded Quebecois playwright Olivier Kemeid, directed by Olivier Coyette, Artistic Director of Théâtre de Poche (Brussels, Belgium), and performed by four of the quad cities' finest actors. Celles d'en Haut celebrates women of all ages and the dynamics of their relationships. It is a hilarious and colorful play set in an "establishment" on an isolated mountaintop. Using shrewd humor, the play questions human choices and explores numerous themes: sickness, the power of medication (and our quickness to succumb blindly to that power), and the deification of doctors. It also investigates how institutions might become beneficial and restorative islands, set apart from the deafening din of the world. Complete with videography by award-winning projection designer Mike Tutaj.
The open rehearsal of Celles d'en Haut will be presented primarily in English (with some French scattered throughout). Following the open rehearsal, mingle and dialogue with the artists during a wine reception.
Atlanta in August 2015!
Théâtre du Rêve's (Theater of the Dream's) open rehearsal presents the talents of four actors and one videographer of notoriety: Barbara Robertson (Extensive Film and Theater credits include The Goodman, Steppenwolf, Chicago Shakespeare, Victory Gardens, Court Theatre…Lauded for her recent performance in Wicked and garnered a number of Jeffs); Kevin McCoy of XMachina (Robert LePage's company in Quebec City); Carolyn Cook (Alliance Theatre, Georgia Shakespeare, Horizon, Theatrical Outfit, Actor's Express…numerous Atlanta accolades including Suzi Awards); Park Krausen (Georgia Shakespeare, Actor's Express, Out of Hand, international work on Beckett…numerous Atlanta accolades including Suzi Awards); Mike Tutaj, videographer (2012 Michael Maggio Emerging Designer Award. Credits include Goodman, Steppenwolf, Chicago Shakespeare as well as off-Broadway and regional theatres).
This production is made possible in part by the support of the Centre Internationale du Théâtre Francophone, the Quebec Trade Office in Atlanta, and the Belgian Consulate.
Lapin blanc, lapin rouge (White Rabbit, Red Rabbit)
by Nassim Soleimanpour
No rehearsals. No director. No set.
November 7th 2014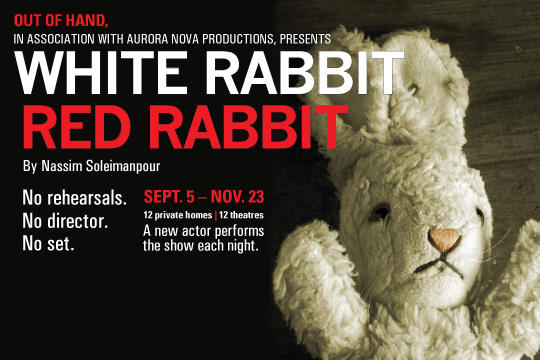 In association with Out of Hand Theater, Théâtre du Rêve presents a FRENCH performance of this astounding play, performed by Christof Veillon.
…the play is short…and ab-crunchingly funny.  Vogue 
Imagine being 29 and forbidden to leave your country. Nassim Soleimanpour dissects the experience of a whole generation in a wild, utterly original play from Iran. Forbidden to travel, he turns his isolation to his own advantage with a play that requires no director, no set and a different actor for every performance…
Jane, le renard et moi (Jane, the Fox and Me)
by Fanny Britt, illustrated by Isabelle Arsenault
A graphic novel about friendship and empathy.
February 7th-22nd 2015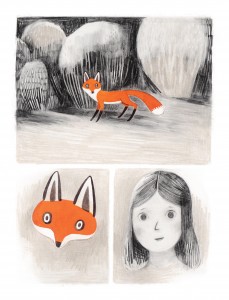 A young girl, Hélène, struggles with her own self-image and worth. She is the victim of bullying behavior in school and finds solace in Jane Eyre and in a mysterious visit from a fox. TdR's adaptation of the graphic novel brings Hélène's journey to life through animated projections and a lush sound-scape. Performed alternately in English or French. Performances followed by workshops or talkbacks.
FAMILY FRIENDLY!
Presented in partnership with the Ben Marion Institute for Social Justice and 7 Stages Theatre.
2013-2014
Jardin des Tuileries, Time Travel
TdR does the High.
December 19th, 2013
January 16th, 2014

Written and directed by Christof Veillon. Théâtre du Rêve animates the gardens of yesterday and today. Take a sensorial reverent and irreverent trip through the Gardens at The High Museum of Art, Atlanta.
Un grand merci to our friends at Atlanta Beltline Bicycle, our bike sponsor for Jardin des Tuileries – Time Travel.
So Coco
Experience a view behind the runway.
March 13, 2014

"Time of Release," the Tian Justman Fall/Winter 2014 Premiere Runway Collection in dialogue with Coco, a play by Bernard-Marie Koltès starring Scott Turner Schofield and Park Krausen. In English.
A spectacular event directed by Christof Veillon, inspired by fashion icon Coco Chanel.
Followed by a post-show fête.

General entry with glass of bubbly -$35
Exclusive Spectacle and Runway-side VIP tables with perfectly paired courses and wine, hosted by Patrick La Bouff's Dinner Party Atlanta and Chef Craig Richards – tickets $250-$1500.
Catch a glimpse of So Coco: A View Behind the Runway

THEATRE DU REVE presents: So CoCo from Captain Crazy Productions, INC on Vimeo.
Exclusive Pre-Show Interview with Coco Chanel, played by Park Krausen
1 SOCOCO INTERVIEW from Captain Crazy Productions, INC on Vimeo.
Nearly New Festival

Discover "nearly new" work by living writers, performed by some of Atlanta's hottest directors and actors in dialogue with amazing writers, producers and theater makers from Haiti, Quebec, Belgium, France, San Francisco, Denver, Chicago and Los Angeles! Celebrate the voices of women and youth through plays, graphic novels, and readings from and about the French-Speaking World. Shine a light on contemporary issues like bullying behavior, our obsession with Facebook, our litigious society and mothers and daughters. 
The Nearly New Festival also included the Nearly New Student Play Workshop, bring together students and professionals under the direction of Béleck Georges from Haiti. See their amazing work!
Nearly New Festival Sizzle 2014 from Captain Crazy Productions, INC on Vimeo.
2012-2013
Tanz Farm
Thursday, Nov 1, 2012 and Saturday, Nov 3, 2012
at The Goat Farm
hosted/curated by gloATL

Theatre du Reve brings an original theatre piece to The Goat Farm's Goodson Yard in the inaugural series of Tanz Farm: A Performance Anthology. Tanz Farm is a series of performances, shops and collaborative experimentations emphasizing interaction and place. Modern dance and other performative art forms such as theatre combine for a thrilling new event moderated by gloATL. TdR performs two nights only: Nov 1 & 3, along with world-renowned choreographer Sidra Bell.
Bal Masqué
Friday, November 16, 2012
at Opera Nightclub

Our third annual Bal Masque joins forces with the French-American Chamber of Commerce to take you back to the Roaring 20s for a theatrical Beaujolais Nouveau event like none other! A ne pas manquer! Mark your calendars now, because you won't want to miss the party of the season.
Celles d'en Haut
Phase 3 of our Quad-City Collaboration
December 9-20, 2012
Atlanta, Chicago and Lafayette, LA

The Quad-City Collaboration continues in a final development phase for TdR's newly commissioned play, Celles d'en haut (The Women from on High) by Quebecois playwright Olivier Kemeid. After two progressive phases of workshops and readings, the play will have readings of the full script in both English and French in several cities to gather one last round of insights before its premiere production next year.
Readings in :
LAFAYETTE, Cité des Arts, 12/10
ATLANTA, The Goat Farm, WarHorse, 12/12
CHICAGO, Chicago Dramatists, 12/15
Lovers & Lunatics
at 7 Stages Back Stage Theatre
8:00 PM performances Fridays and Saturdays
3:00 PM performances Saturdays and Sundays
10:00 AM student matinee performances Thursdays and Fridays

Childhood. Affairs. Love Triangles.
Have lovers and lunatics really changed over the last 120 years?
Does "love" change from one side of the Atlantic to the other?
Théâtre du Rêve presents :
Two raucous farces by Georges Feydeau.
Two modern English language adaptations by William Hatten.
One modern bilingual adaptation by William Hatten with Ama Bollinger.
Set in both Paris and Atlanta, you will voyage to France without ever leaving the Peach State!
Farces include Fiancés en Herbe/Puppy Love, Par la Fenêtre/By The Window, and Gibier de Potence.
Featuring Bryan Brendle, Ariel Fristoe , Chris Kayser, Cara Mantella, Eliana Marianes and Christof Veillon. And youth actors Nadia Crawlle, Victor Magaud, Flora McGirt and Thomas Shoup.
"No Fear French" production. Absolutely no French is required to enjoy these wonderful one-acts.
*This production is rated "PG-12″ for mild language and sexuality and recommended for audience members age 12 and up. Children under 12 are welcome with parental discretion.